Have you ever made a New Year's resolution only to fall off the bandwagon by the third week of January? You haven't failed. You just aren't aiming at the right things. Setting intentional goals has helped me accomplish more things that matter year after year.
This post may contain affiliate links. You can read our disclosure policy here.
How many years in a row have you made a New Year's resolution like lose weight this year or floss your teeth nightly? While I think it's a fantastic idea to set goals to help us reach for more in life I don't necessarily think that New Year's resolutions are the best way to do that. I have found that setting intentional goals and breaking them down into bite-sized pieces has helped me.
I used to start out every year with a random list of items that I wanted to do more of. Floss more. Spend more time with friends. Read more books. Make more money.
While the pursuit of all of these things might be great I quickly learned that having a lot of resolutions that were tied to nothing more than what I thought I should be doing was leaving me feeling burnt out. I put too much pressure on myself to do all of the things. As one of my favorite authors says:
You can't do it all and do it well.

Emily Ley
My biggest problem was that my resolutions weren't tied to a larger overall purpose. They were simply a meaningful to-do list of stuff I had given myself for the year. I was setting myself up for failure before I even started. That's when I started focusing more on intentional goals and less on resolutions.
Goals vs Resolutions
The biggest difference between a goal and resolution is that a goal has a purpose and a why behind it. Resolutions are simply a list of things you'd like to do (or not do). It's hard to stay motivated and stick with something when you don't have a greater inner purpose to actually strive to accomplish that thing.
I have spent a large portion of my life prescribing to the New Year's resolutions that I felt I should be making. And each year would leave me feeling more empty after the hustle for meaningless things wasn't fulfilling and ultimately failed.
It's hard to work on stuff that you don't deeply care about.
GOALS HELP CREATE THE LIFE YOU WANT TO LIVE
Instead of drifting aimlessly through life every day I have a set of goals, guideposts if you will, to help me navigate my way. I have carefully and thoughtfully crafted my goals for my life based on what is deeply important to me and what feeds my soul. Then I use these goals to guide my actions and my schedule for every day.
You don't just wake up to the wonderful life you want. You have work hard at it and build it from the ground up.
I have a clear vision for where I want my life to go and the type of impact that I want to make and then from there it makes day to day decisions so much easier because I have a target I am aiming at.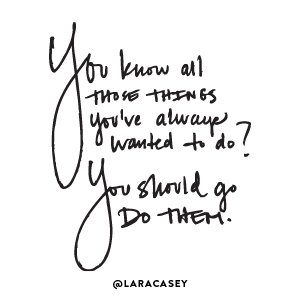 ,
It's not all or nothing
The biggest thing I have learned on this intentional goal- setting journey is that it's not all or nothing. I don't have to perform perfectly every day and when I don't reach my ridiculously high expectations simply give up.
I've followed Lara Casey for a while and I love her heart behind intentional goal setting. Every year she does an Intentional Goal Setting Series completely for free on her blog. If you've never done goal setting before this is the place to start. She walks you through the process step by step and helps you gain clarity around the things that you desire the most for your life.
Start with part one and walk your way through 4 days of how to shape and craft your goals. Lara Casey walks you step by step through identifying the things that are most important to you. Then you create and craft your intentional goals based on the things you value the most in life.
Intentional goals are thoughtfully crafted and they are not just resolutions you come up with on a whim on December 31st.
TOOLS TO SUCCEED
If you have only been making resolutions in your head for years then you know that the process of resolutions rarely works. Not only are you not connecting your resolution to anything meaningful but most of the time you are also not writing them down.
You are significantly more likely to accomplish your goals if you are writing them down in black and white (or in a rainbow of colors) I have two favorite tools that I use daily to help me identify the goals that matter to me and to help me track them.
Powersheets by cultivate what matters
For the last 2 years, I have been using the Cultivate What Matters Powersheets, also made by the lovely Lara Casey. These Powersheets take the process of Lara's Intentional Goal Setting Series and then really take a deep dive into identifying all areas of life that you want to focus on.
I have found that when my goals are written down in front of me in black and white and I have a way to track my progress I am significantly more likely to make progress on those goals. I also love that my Powersheets have served as a look back at how far I've come from month to month and year to year in pursuing a life that matters.
How Powersheets work
I love that Powersheets take all of the guesswork out of identifying your goals and really hold your hand through the goal-setting process. There is a section at the beginning devoted solely to prep work.
Cultivate What Matters offers an entire series on their blog walking you through the entire prep work process. I love that it takes you through step by step every area of life to uncover what goals really matter in your life.
Rate Key Areas of Your Life- You will analyze where you are currently in key areas of your life such as health, relationships, financial, spiritual/personal growth, and career. You rate yourself and explain why you gave this rating.
Identify Fears and Challenges- In order to get to the good stuff you also need to work through the negative and identifying your biggest fears and challenges helps you push through those obstacles with new goals
Celebrating Wins and Lessons Learned- Looking back on the things that have served you well in the past or what the difficult seasons have taught you show your resiliency and build momentum toward future goals
Cultivating Your Legacy- It's harder to create goals for the future if you don't know what you're aiming at. The prep work encourages you in many different ways to envision your dream life and what you want your legacy to be
Choosing a Word for the Year- This is probably my favorite part of prep work each year and also the hardest part. The Powersheets guide you through brainstorming and then selecting a word that will encompass and embody the spirit of the year and the season you're in.
After going through all of the prep work you will then use the common threads to brainstorm and ultimately craft larger overall goals for the year. You then take those large goals and split them up into monthly action steps for your Tending List that you can focus on monthly, weekly and daily.
Here's a sneak peek into what my January 2020 Tending List looks like.
How Powersheets have impacted my life
Less Comparison, More Intention- I have found that Powersheets really help me to look inward for my goals instead of outward. In the past, I have set resolutions based on what everyone around me was doing.
Intentional Action Steps- Using the Powersheets prep work I can identify the things that are actually important to me in my life. Then I can break it down into actionable steps that help me work intentionally toward that life that I am envisioning for myself.
Breaking Perfectionism- The mantra of the Powersheets is "Little by Little Progress" which is such a balm to my soul for this recovering perfectionist. Every day doesn't have to be perfect (and typically won't be) but as long as you are making slow and steady progress little by little every day then you are heading in the right direction.
Check-ins- The daily, weekly and monthly check-ins help keep me on track working toward my goals. I have a tendency to get hung-ho about a goal at the beginning of the year or the beginning of a month only to squirrel later and forget all about it (or give up) The check-ins help keep me focused.
The way you start your day is quite often the way you'll live your day. I like to have morning routines and rituals that set me up for a day of success.
One of my favorite morning habits that I adopted in late 2018 was to start each day writing down things that I am grateful for and then set my intentions for the day. This course setting for my day had a drastic impact on how my day went and made me feel like I was actually making progress toward goals instead of floating around rudderless.
I am so inspired and encouraged by all things Rachel Hollis and was so excited when she launched a product for her very own personal daily practice, the Start Today journal.
The Start Today journal is a mixture of a daily gratitude practice, daily affirmations and speaking goals into existence and the act of focusing on one thing to accomplish at a time.
Walk through of process– There is an episode of one of my favorite personal development podcasts, Rachel's Rise podcast, that goes in-depth about how the process works.
10, 10, 1- The journal focuses on you visualizing how you want your life to look in 10 years, then identifying what are the 10 dreams that would make that a reality, then taking one of those dreams and narrowing it down to a super specific goal you're going to work on first.
10 years– Very similar to the prep work in the Powersheets that has you visualize your life at 80, the Start Today journal has you look 10 years into the future and journal in great detail about what you want your life to look like.
10 dreams– After you have your vision you identify what 10 dreams will help you accomplish that dream life 10 years from now
1 goal- Now pick one dream and focus in on a very specific action step you can take right now to achieve that dream
I have used a Start Today journal since November 2018 and I can say for sure that the daily practice of gratitude and speaking my dreams into the universe has had a massive impact on my life.
Have I been perfect with that daily practice? Absolutely not. There have been weeks, if not months, where I have completely fallen off. But it is something that I keep coming back to time and again because I see the positive effects in my life.
Look for gratitude and you'll find gratitude– Since starting this daily gratitude practice I have actively looked for things in my day to right in my journal for the next morning. When you're actively looking for the little things in life to be grateful for those little things seem to multiply. The grateful for the small things in life I have been the more abundant my life has become which means even more things to be grateful for. It's a wonderful cycle.
Speak words of life- Every day you are either speaking words of life over yourself, your relationships, your dreams, or you are speaking words of death. Proverbs 18:21 says "The tongue has the power of life and death, and those who love it will eat its fruit." Writing down my dreams every day is an act of my speaking life, daily, into the things that are most important and most dear to me.
Daily refocusing- I love that my journal is a daily check-in and a chance for me to re-focus. Even if the day before went completely off the rails I can come back to my gratitude and my dreams the next morning and course correct.
IT'S A MARATHON NOT A SPRINT
Intentional goal setting can be tough. It's easy to want to throw in the towel when you don't live up to your goals each and every day. But I have to remind my perfectionist self every day that it's the little by little progress that adds up.
The life and the legacy that I am aiming for is grand and audacious. It would be ridiculous to assume that I would end up there one day just overnight without having put in any work on the front end.
So I push along with my goals. Some days and seasons it's a slog at a snail's pace. Other days and seasons I am flying through life. But I always try to just keep moving, no matter what.
If you start the process of setting intentional goals I can promise that it will always be worth it.
DID THIS HELP YOU? PIN FOR REFERENCE LATER OR SHARE WITH A FRIEND